Learn essential skills for cycling in traffic – online!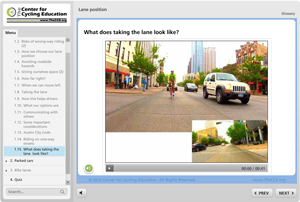 Valuable for experienced cyclists, as well as beginners. "Do I have to ride at the edge of the road, or can I control my lane?" "How can I encourage drivers to give me enough space, and cooperate with me?" "What laws apply to me as a cyclist?"
In this course, you'll find the answers.
This is 110 pages of interactive content (about 3 hours) that you can access on your own schedule–all at once or a bit at a time. It outlines the laws for cyclists in Austin, Texas, and provides proven techniques that can help you increase your safety and comfort in traffic.
The introductory price is only $25 It just takes a minute to sign up, and you can start whenever you like.
Get more information on this and other online courses. (If you've received a traffic ticket while cycling in Austin, see below.)
Defensive Cycling ('Deferred Disposition'):
Are you an Austin cyclist who has received a traffic ticket while riding your bike? By signing up for the Defensive Cycling course (classroom or online), you will meet the requirements to dismiss your traffic ticket, have your fine waived (but not the court fee) and keep the offense from being applied to your driving record.
These courses were developed by The Center for Cycling Education, the same group that developed and teach our popular classroom-based Defensive Cycling course. The content is currently available for the Austin, Texas area, and is being configured for regions throughout North America. If you want a course for your city, please contact The Center for Cycling Education.